The Swedish indoor championships 2013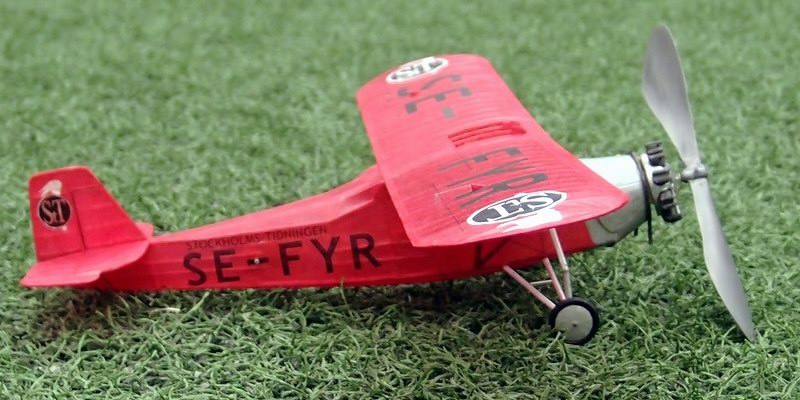 After a few years in Stockholm, the 2013 Swedish indoor champs took place in "Kombihallen" in Malmö. Many classes to fit in during a single day of flying made things a bit hectic, but competition directors Anders Sellman and Bengt Stibner made sure everything ran smoothly. The number of entries were lower than in the previous Stockholm competitions, but most classes could at least sport four or five competitors.
In F1D and F1L, it was no surprise to see Romblad taking the top places, he is in a class of his own. The smaller classes had another double winner, as Jan-Erik Andersson placed first both in A6 and Ministick. A few models got stuck in the lighting armatures, but I think all of them were sucessfully retrieved.
In scale, we saw a number of models with an age-span ranging from "not new" to &quotold antique", that have been trimmed and tried out thoroughly over the years. The only new model was Peter Comét's Nesmith Cougar, neatly covered in painted condenser paper. It still lacked a lot of detailing, which explains the low static score, but the flights were high and trouble-free.
The results in both peanut and pistachio had the three top placers tying for the same score, an unfortunate consequence of the rules combined with the small number of competitors. The final ranking was determined by the highest static score. To speed up the competition, the number of entries were limited to one model per class and person.

---
Some photos

Föregående
Nästa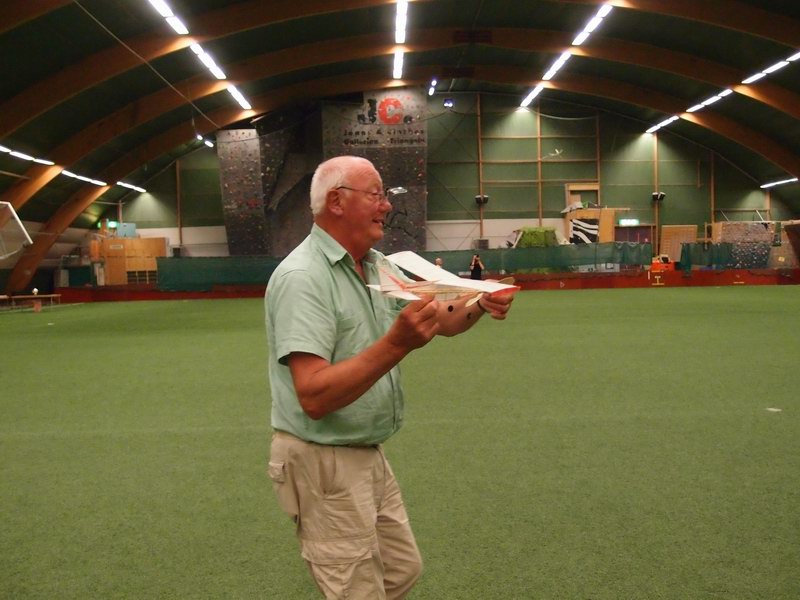 Bo-Eskil about to start his NoCal
Results
F1D
Place
Competitor
2 best flights (sec)
Sum of 2 best flights (sec)
1
Jonas Romblad
1504
1579
3083
2
Sven Pontan
1087
1181
2268
3
David Brohede
437
815
1252
4
Peter Comet
380
-
380
F1L
Place
Competitor
2 best flights (sec)
Sum of 2 best flights (sec)
1
Jonas Romblad
745
701
1446
2
Sven Pontan
679
342
1021
3
Andrea Hartstein
504
508
1012
4
Peter Comet
392
408
800
5
David Brohede
621
-
621
F1M
Place
Competitor
2 best flights (sec)
Sum of 2 best flights (sec)
1
Anders Sellman
365
367
732
2
Jan-Erik Andersson
284
323
607
Ministick
Place
Competitor
2 best flights (sec)
Sum of 2 best flights (sec)
1
Jan-Erik Andersson
268
292
560
2
Georg Törnkvist
244
296
540
3
Bo-Eskil Nilsson
210
327
537
4
Thomas Johansson
189
169
358
5
Peter Comet
45
-
45
A6
Place
Competitor
2 best flights (sec)
Sum of 2 best flights (sec)
1
Jan-Erik Andersson
303
310
613
2
Andrea Hartstein
270
262
532
3
Georg Törnkvist
230
223
453
4
Christer Comet
30
114
144
NoCal
Place
Competitor
Aircraft
2 best flights (sec)
Sum of 2 best flights (sec)
1
Birgit Törnkvist
Wittman Racer
111
99
210
2
Bo-Eskil Nilsson
Maule 5
77
95
172
3
Andrea Hartstein
Westland-Hill Pterodactyl
28
30
58
4
Lars Tolkstam
Bf 108 Taifun
5
3
8
Bostonian
Place
Competitor
2 best flights (sec)
Sum of 2 best flights (sec)
1
Thomas Johansson
83
90
173
2
Birgit Törnkvist
70
74
144
3
Christer Jönsson
59
62
121
4
Tycho Andersson
48
48
96
Peanut
Place
Competitor
Aircraft
2 best flights (s)
Sum of 2 best flights (s)
Flight rank
Scale points
Scale rank
Total ranking
1
Anders Sellman
Santos-Dumont 14bis
60
52
112
3
59.5
1
4
2
Johan Wallin
ASJA Viking 1
64
65
129
2
57.5
2
4
3
Andrea Hartstein
Lacey M10
80
78
158
1
48.0
3
4
4
Lars Tolkstam
Piper J3 Cub
51
31
82
5
44.5
4
9
5
Peter Comet
Nesmith Cougar
46
48
94
4
18.0
5
9
Pistachio
Place
Competitor
Aircraft
2 best flights (s)
Sum of 2 best flights (s)
Flight rank
Scale points
Scale rank
Total ranking
1
Lars Tolkstam
Udet U-12b Flamingo
35
31
66
3
30.5
1
4
2
Georg Törnkvist
Lacey M10
48
54
102
2
29.0
2
4
3
Johan Wallin
Jodel D9
59
67
126
1
27.0
3
4