The Swedish indoor championships 2011

The 2011 Swedish indoor champs once again took place in Sätrahallen, Stockholm. The competition was held over two days, with the first day reserved for Nocal, A-6 and trimming. A-6 has caught on, and had the largest participation with 12 entries. It was nice to see some new names here, and one of those new names, Per Widing, won with excellent flights of about six minutes duration.
In F1D, Mats Licke had built his first F1D, and the number of entries were up from the usual three to five. Jonas Romblad won by a very large margin, his best flight was nearly 30 minutes!
In peanut, we had a healthy entry of 13 models, 9 competitors. The canards by Andrea (Drzewiecki) and Anders (Santos-Dumont) combined good scale points with duration, and took first and second respectively. Henrik Tissel's Peck-Polymer BA4B, proxy flown by Tolkstam, placed third. Georg entered an old but exquisite Tiger Moth. It was built for one of the Interscale competitions in Nottingham, and features Robin Hood as pilot! It placed top in the scale judgement, but unfortunately it was out of trim, and only made one short flight.
In pistachio, Tolkstam was yet again victorious with his excellent Udet Flamingo. Second place went to Georg with his new Bleriot 25.
In nocal finally, Birgit did not win with her Wittman racer!. Lars Tolkstam made a new larger propeller for his Messerschmitt 108, and as a result increased his flight times to over three minutes, which was enough to win. Andrea also flew a Me 108, but it broke a wing flying into a wall, and had to be replaced by her trusty old Bristol Scout.
---
Some photos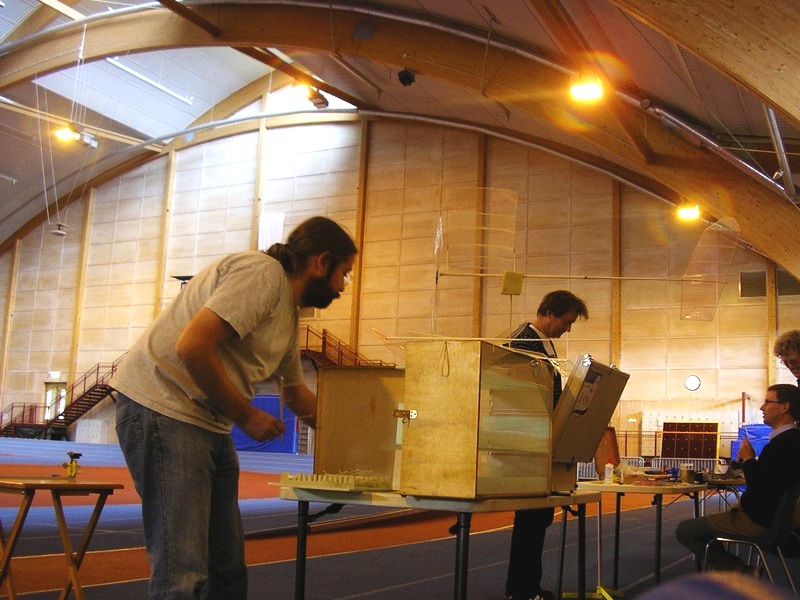 Tapio Linkosalo with his F1D
---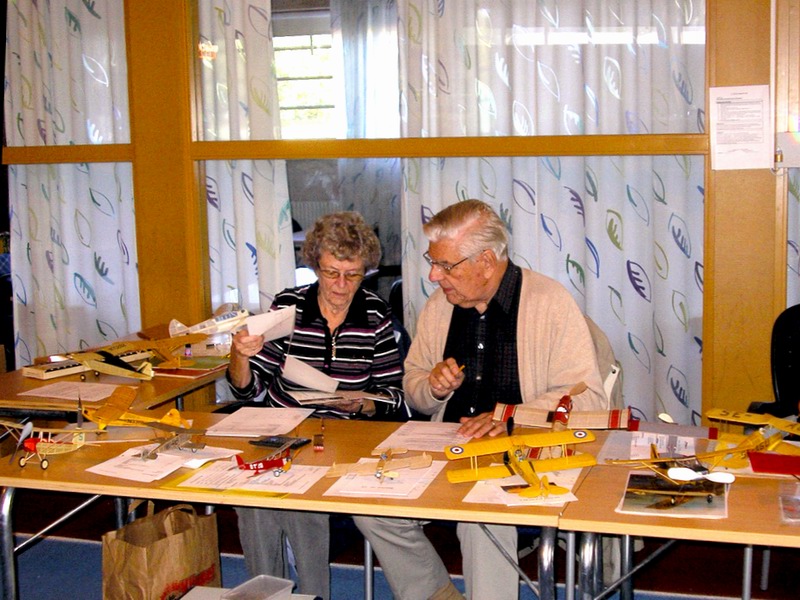 Scale judges Sven-Olof and Vailet
---
Georg Törnkvist's beautiful Tiger Moth.
Read more about it in the photo gallery.
Here is Georg's Bleriot 25 pistachio

Anders Sellberg's pistachio Microplano Veloz.
Click image for larger picture.
Hans Karlsson's MFI 9B Junior.
---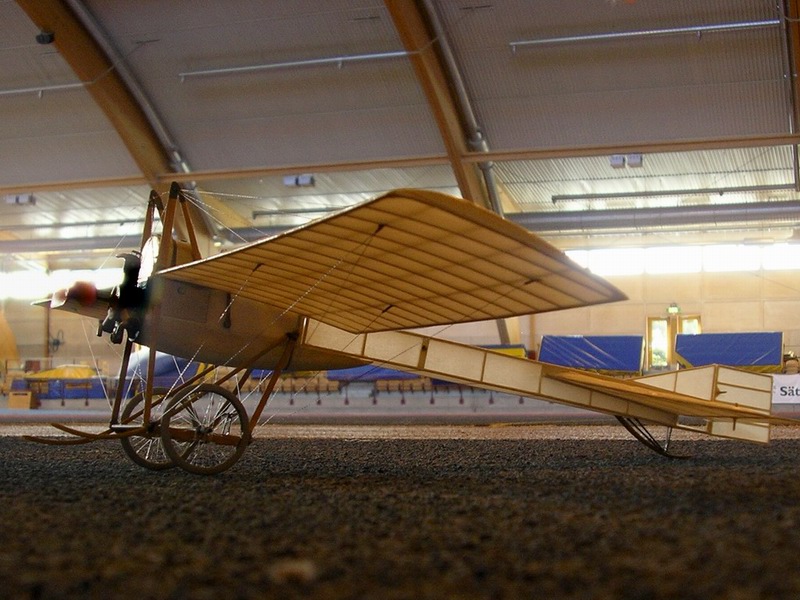 Georg Törnkvist's electric Deperdussin was tentatively test-flown attached to a string
See the photo gallery for more photos of this museum scale model.


---
| | |
| --- | --- |
| Johan adjusts his Jodel pistachio | Winding Inge Ahlin's Nesmith Cougar |
---
Results
F1D
Place
Competitor
2 best flights (sec)
Sum of 2 best flights (sec)
1
Jonas Romblad
1725
1771
3496
2
Tapio Linkosalo
1120
1147
2267
3
Sven Pontan
672
793
1465
4
Hans Karlsson
653
731
1384
5
Mats Licke
681
633
1314
F1L
Place
Competitor
2 best flights (sec)
Sum of 2 best flights (sec)
1
David Brohede
774
798
1572
2
Mats Licke
798
765
1563
3
Sven Pontan
803
627
1430
4
Andrea Hartstein
564
582
1146
5
Magnus Candell
490
481
971
F1M
Place
Competitor
2 best flights (sec)
Sum of 2 best flights (sec)
1
Tapio Linkosalo
822
840
1662
2
Hans Karlsson
381
410
791
3
Anders Sellman
191
240
431
4
Bengt Stibner
127
213
340
Ministick
Place
Competitor
2 best flights (sec)
Sum of 2 best flights (sec)
1
Kalle Westerblad
371
370
741
2
Georg Törnkvist
323
392
715
3
Bo-Eskil Nilsson
243
315
558
4
Bertil Henriksson
92
99
191
5
David Brohede
122
-
122
A6
Place
Competitor
2 best flights (sec)
Sum of 2 best flights (sec)
1
Per Widing
368
363
731
2
Mats Licke
335
342
677
3
Andrea Hartstein
281
285
566
4
Anders Sellman
284
259
543
5
Georg Törnkvist
259
279
538
6
Kalle Westerblad
262
270
532
7
Magnus Candell
267
235
502
8
David Brohede
241
237
478
9
Bo-Eskil Nilsson
248
175
423
10
Andreas Sjödin
198
207
405
11
Fredrik Pettersson
186
172
358
12
Bengt Stibner
98
77
175
NoCal
Place
Competitor
Plane
2 best flights (sec)
Single best flight (sec)
1
Lars Tolkstam
Bf 108 Taifun
171
192
192
2
Birgit Törnkvist
Wittman Racer
172
160
172
3
Kalle Westerblad
Maule 5
142
151
151
4
Andrea Hartstein
Bristol Scout
106
106
106
5
S-O Lindén
Mr Mulligan
40
50
50
6
Inge Ahlin
Piper Cub
48
49
49
Peanut
Placing
Competitor
Plane
2 best flights (s)
Sum of 2 best flights (s)
Flight rank
Scale points
Scale rank
Total ranking
1
Andrea Hartstein
Drzewiecki Canard
77
86
163
1
56.5
3
4
2
Anders Sellman
Santos-Dumont 14bis
70
61
131
3
61.0
2
5
(3)
Andrea Hartstein
Lacey M10
77
78
155
2
48.5
4
6
3
Henrik Tisell
Andreasson BA4-B
55
55
110
4
46.0
6
10
4
Georg Törnkvist
Tiger Moth
14
-
14
11
63.5
1
12
5
Lars Tolkstam
Piper J3 Cub
58
51
109
5
44.5
7
12
6
Hans Karlsson
Bücker Jungmann
21
26
47
9
47.0
5
14
7
Lars Lindén
Nesmith Cougar
45
45
90
6
40.0
9
15
(8)
Lars Lindén
Piper J3 Cub
37
38
75
8
41.0
8
16
8
Inge Ahlin
Nesmith Cougar
36
41
77
7
34.0
11
18
(9)
Hans Karlsson
MFI 9B Junior
13
33
46
10
37.0
10
20
9
Bengt Stibner
Nesmith Cougar
2
-
2
12
34.0
11
23
(10)
Bengt Stibner
Pietenpol Air Camper
2
-
2
12
33.0
13
25
Pistachio
Placing
Competitor
Plane
2 best flights (s)
Sum of 2 best flights (s)
Flight rank
Scale points
Scale rank
Total ranking
1
Lars Tolkstam
Udet U-12b Flamingo
44
66
110
1
36.0
1
2
2
Georg Törnkvist
Bleriot 25
46
44
90
2
32.0
2
4
3
Johan Wallin
Jodel D-9
32
32
64
3
30.0
3
6
4
Anders Sellman
Microplano Veloz
28
26
54
4
27.0
4
8