The Swedish indoor scale championships 2006
As the main Swedish indoor champs coincided with the Oldtimer-champs, it had been decided to postpone the scale classes until later. The scale competition took place in November, in the Kumla Sporthall. In addition to the scale classes a few duration classes were also flown, but without national championship status.
There was a quite good turnout, with 13 peanuts and 4 pistachios in the results. Most of the models were built with traditional techniques (tissue covered balsa framework), but Hartstein's HP Sayers peanut and Pontan's Lacey pistachio used mylar covering, while Johan Wallin entered two foam models. Below are some photos (by Johan and Andrea) of most of the competitng scale models. The results can be found on the bottom of the page.
---
The peanut parade
| | | |
| --- | --- | --- |
| Andreasson BA4B - S.O. Lindén | | Nesmith Cougar - Lars Lindén |
| | | |
| --- | --- | --- |
| Junkers F-13 - Johan Wallin | | Voisin Hydroplan - Lennart Lilienberg |
| | | |
| --- | --- | --- |
| Piper Cub J3 - Sven Pontan | | Piper Cub J3 - Lars Lindén |
| | | |
| --- | --- | --- |
| Lacey M10 - S.O. Lindén | | Bleriot XXV - Lennart Lilienberg |
---
The pistachio presentation
| | | |
| --- | --- | --- |
| Dornier Falke - Anders Sellman | | Tupolev ANT-2 - Andrea Hartstein |
| | | |
| --- | --- | --- |
| Nieuport-Delage Sesquiplan - Johan Wallin | | Voisin Hydroplan - Lennart Lilienberg |
| | | |
| --- | --- | --- |
| Lacey M10 - Sven Pontan | | Unfinished Udet Flamingo by Lars Tolkstam |
---
NoCal novelties
| | |
| --- | --- |
| Johans Riesler Nocal in flight | Sven-Olofs Mr Mulligan |
---
Miscellaneous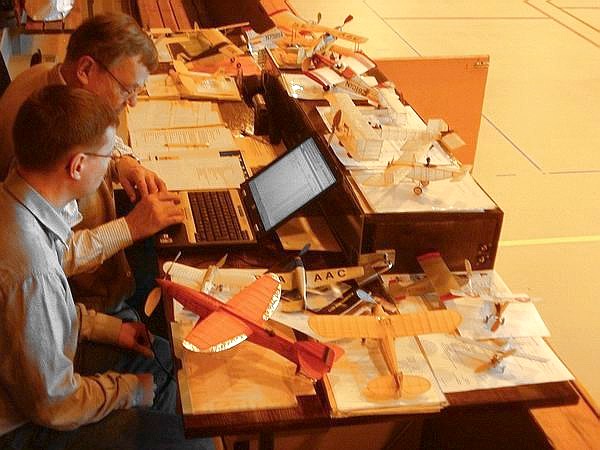 Scale judging
---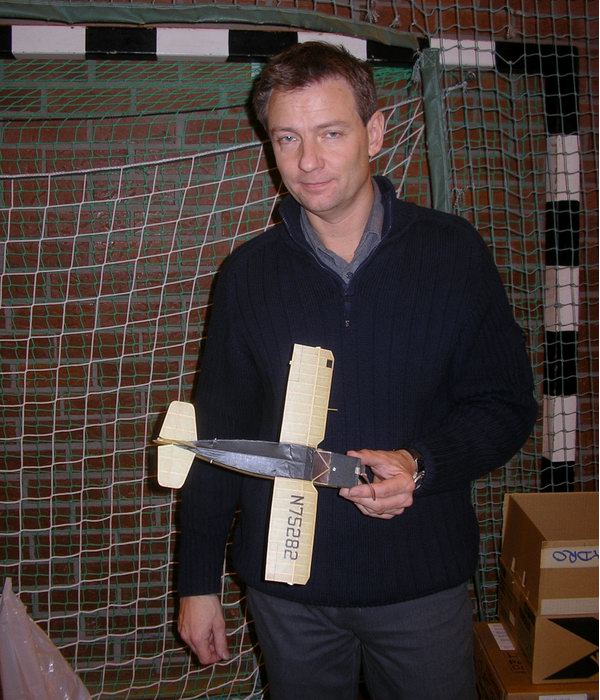 Lars Lindén with his Nesmith Cougar peanut
---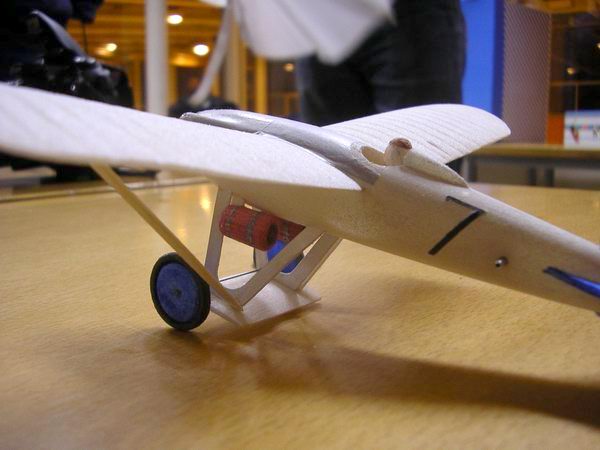 Close-up of Johan's Nieuport-Delage pistachio
---
Results
Peanut
Placing
Competitor
Model
2 best flights (s)
Sum of 2 best flights (s)
Flight rank
Scale points
Scale rank
Total ranking
1
Andrea Hartstein
Handley-Page Sayers
47
53
100
2
47.5
3
5
2
Sven Pontan
Piaggio PC7
40
38
78
4
49.5
2
6
3
Lennart Lilienberg
Voisin Hydroplan
30
54
84
3
46.0
5
8
(4)
Sven Pontan
Tefft Contester
56
65
121
1
35.5
8
9
5
Hans Karlsson
Bücker Jungmann
17
19
36
9
50.0
1
10
(6)
Andrea Hartstein
Drzewiecki Canard
43
33
76
5
43.5
6
11
7
Johan Wallin
Junkers F13
13
-
13
10
47.0
4
14
8
S.O. Lindén
Andreasson BA4B
21
22
43
8
42.0
7
15
9
Lars Lindén
Nesmith Cougar
24
27
51
6
30.5
10
16
(10)
S.O. Lindén
Lacey M-10
-
-
0
11
42.0
7
18
(11)
Lars Lindén
Piper Cub J3
22
23
45
7
29.5
11
18
(12)
Lennart Lilienberg
Bleriot XXV
-
-
0
11
34.5
9
20
(13)
Sven Pontan
Piper Cub J3
-
-
0
11
30.5
10
21
Pistachio
Placing
Competitor
Model
2 best flights (s)
Sum of 2 best flights (s)
Flight rank
Scale points
Scale rank
Total ranking
1
Johan Wallin
Nieuport-Delage Sesquiplan
2
4
6
3
20
1
4
2
Sven Pontan
Lacey M-10
24
-
24
2
19
2
4
3
Anders Sellman
Dornier H Falke
30
33
63
1
14
4
5
4
Andrea Hartstein
Tupolev ANT-2
-
-
0
4
15
3
7
F4D
| | | |
| --- | --- | --- |
| Place | Competitor | Model |
| 1 | Sven Pontan | Tefft Contester |
| 2 | Andrea Hartstein | Drzewiecki Canard |
| 3 | Lennart Lilienberg | Brown B-2 |
NoCal
| | | | |
| --- | --- | --- | --- |
| Place | Competitor | Model | Single best flight (sec) |
| 1 | Andrea Hartstein | Bristol Scout | 60 |
| 2 | Johan Wallin | Riesler RIII | 58 |
| 3 | Lars Lindén | Lockheed Vega | 35 |
| 4 | S.O. Lindén | Mr Mulligan | 32 |
F1L
Place
Competitor
2 best flights (sec)
Sum of 2 best flights (sec)
1
Jonas Romblad
458
681
1139
2
Ludwig Hedlund
388
424
812
3
Sven Pontan
360
-
360
F1M
Place
Competitor
2 best flights (sec)
Sum of 2 best flights (sec)
1
Jonas Romblad
418
472
890
2
Bo Torstensson
351
369
720
3
Sven Pontan
318
191
509
4
Hans Karlssson
283
176
459
Ministick
Place
Competitor
2 best flights (sec)
Sum of 2 best flights (sec)
1
David Holmström
260
302
562
2
Bo Torstensson
182
193
375