Sky Cam Cup 22 & 23 Feb. 1997

---

Sponsored by the SKYCAM companyc

---
Thanks to Sven Pontan and thanks to SKYCAM, we had the opportunity to fly in the Globen Annex. This is a large hall with about 10 m to the ceiling. The only drawback is that it is cluttered by lighting armatures and roof beams. A few models got caught, but thanks to the sky-lifts provided every model was eventually retrieved. The contest was well arranged, and backed up by two computers, competition director Sven Pontan did not fail in his struggle to keep everything in order.
The first day was set aside for the heavier models. The Nocal class had a remarkable 30 entries, much thanks to the irrepressible Gösta Leijon who entered no less than 6 models! Pontan won this class with his old Waterman Racer. Flugan (Delta Dart) was flown in separate junior/senior classes, and also had a quite good turn-out of entries. The best times of both the top junior flier and the top senior were 84 seconds. Indoor HLG has not been flown in Sweden for some time, so Pontan thought it was time to reintroduce the class. He also became the winner, with a best time of 26 seconds.
The main attraction this day was perhaps the scale models. For the first time in Sweden, we were going to fly the new F4D and F4E classes. Unfortunately the judges could not come, so we improvised the rules a bit by simply placing the models in order of merit in scale and flight respectively, and then summing up the results.
In F4D, all competitors used peanut models, except S.O. Lindén who flew a large outdoor Heinkel He 100 (built from a kit). Although the Globen Annex is a large hall, this model could certainly have had use for some extra airspace. In its longest flight it first flew through the roof girders, releasing a heavy chain which had been tucked up there, and then ended the flight by flying into the wall. Amazingly, it survived without scratches. Lennart Lilienberg's Waterman Gosling was far ahead of the others in terms of realism in flight, and was the unquestionable winner. The highest scale placing went to my own Drzewiecki Canard, but when I tried to persuade it to make wider turns it flew into the wall and was damaged.
In F4E, there was one museum quality model, Lars Tolkstam's Tiger Moth, and Lennart Lilienberg had a nice, 35 cm wingspan, Farman Moustique. In the event the Tiger Moth refused to fly due to engine problems, the Moustique crashed and was damaged, so Tomas Leijon won with his simple but well built Auster (from a Czech kit). Actually, this was the only model to make a successful flight in F4E! The peanut and pistachio classes had to be cancelled due to lack of time and competitors.
---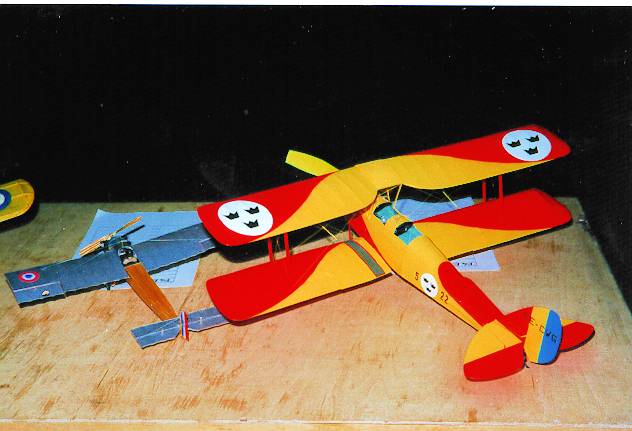 The leading F4E contenders; Tolkstam's Tiger Moth and Lilienberg's Farman Moustique. In the event, none of these models made a successful flight.
---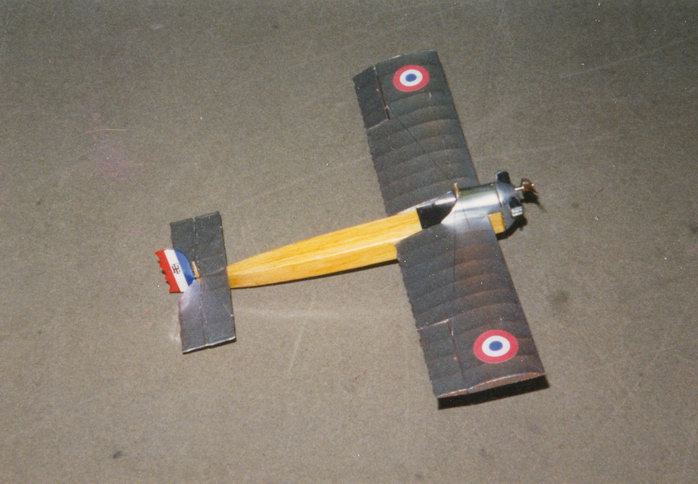 A closer look at Lennart Lilienbergs Moustique. There were several Farman lightplanes called Moustique, this is the earliest one from 1920. The model is powered by a Gasparin 24 CO2 engine, but crashed and was damaged during trimming.
---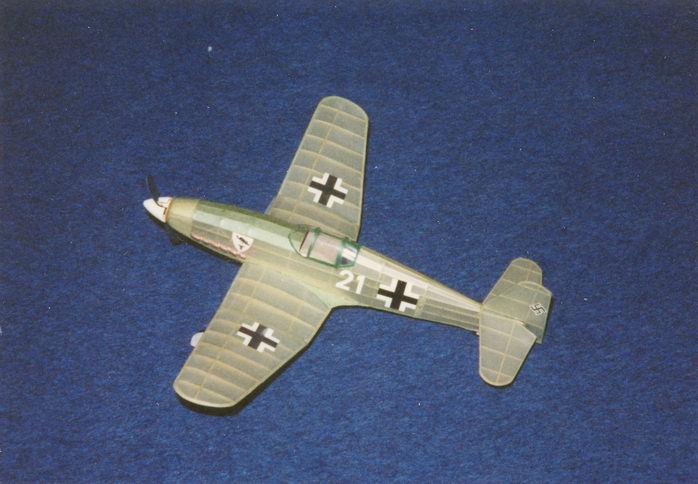 Sven-Olov Lindéns large Heinkel 100. This is really an outdoor model, but it managed a hazardous qualifying flight.
---
Several flyers took the opportunity to test new models, or just fly for fun. Here are Lennart Lilienberg with his Facetmobile and Fokker Dr1. The Fokker is powered by a CO2 engine, while the Facetmobile is rubber powered.
---
The second day was reserved for the lighter models; F1D, F1L, 50-öres and LRS (Mini-stick).
In F1D Sven Pontan was way ahead of the others, probably thanks to his variable pitch propeller. Pontan also won in F1L, but there he had to fight it out with Jonas Romblad. The others were several minutes behind.
In 50-öres, we got the chance to see real innovation. Romblad's model (see below) is bristling with bright ideas. It has a very large chord to take full advantage of the rules. When you take a closer look at it, you will notice another thing, the covering is on the underside of the wing! Actually, it has the front spar on the upper surface, while the rear spar is below. The latest refinement is the addition of circular wing tip end plates. According to windtunnel tests he has made, this improves performance. Although it's a 3 gram model, it flies at F1D speed.
The real oddball in 50-öres was Tomas Leijon, who used a Nocal scale model! This model, a Waterman Racer covered in coloured plastic film, weighs much less than the 6.3 gram Nocal limit, and the 50-öres class was really the only one he could enter it in.
In LRS the ceiling proved to be problematic, as these small models could easily get caught in the beams. Thanks to the sky-lift every model was however eventually returned. Leijon was allowed to compete with an old parlour plane (which is larger than the LRS limit), as no one, including himself, thought it was competitive. As it turned out, this plane actually got the best single flight, but was beat into second place by Hartstein who had a better back-up flight. Special mention should also be made of David Schmidt, a junior flyer who got remarkably good times with a simple jap. tissue covered model.
Finally, I would like to thank the SKY CAM company for sponsoring this competition, and Sven Pontan for providing photos and the list of results.
---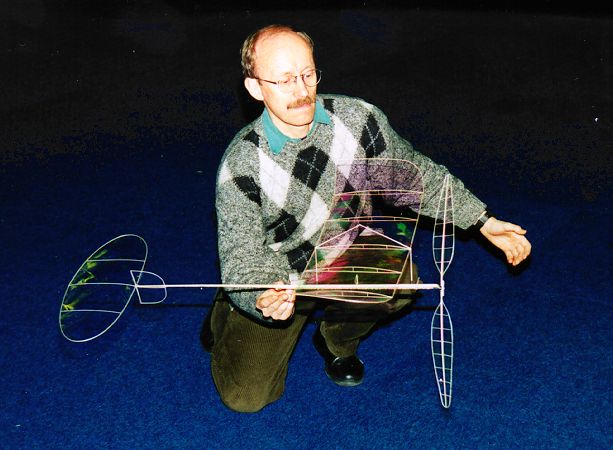 Sven Pontan releasing his winning F1D
---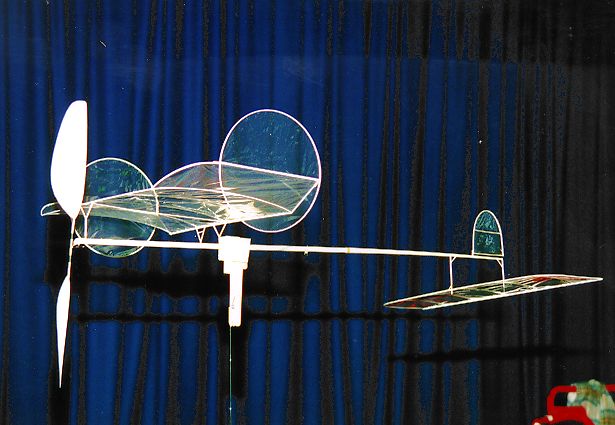 Romblad's 50-öring with wing tip end plates.
---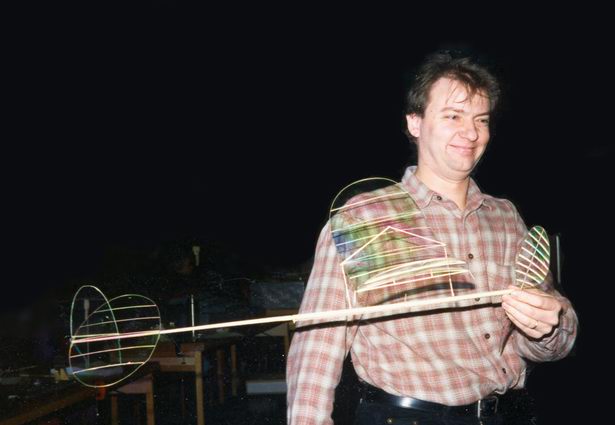 Lars Lindén with his F1D
---
Andrea Hartsteins ministick in flight. Best fligths were around 5 minutes.
---
Sky Cam Cup; List of results
Nocal (red colour signifies junior flier)

| | | | | | | | | | | |
| --- | --- | --- | --- | --- | --- | --- | --- | --- | --- | --- |
| Plats | Tävlande | Klubb | Modell | Flygn 1 | Flygn 2 | Flygn 3 | Flygn 4 | Flygn 5 | Flygn 6 | Summa 2 bästa |
| 1 | Sven Pontan | Haninge MFK | Waterman Racer | 144 | 164 | 162 | | | | 326 |
| 2 | Tomas Leijon | Nyköpings MK | Heinkel 178 | 97 | 96 | 126 | 104 | 134 | 150 | 284 |
| 3 | Åsa Kivling | MFK Nimbus | Spitfire | 84 | 90 | 147 | 109 | 117 | 120 | 267 |
| 4 | Daniel Brånn J | MFK Nimbus | Focke Wulf | 89 | 112 | 128 | 136 | | | 264 |
| 5 | Birgit Ulvfot | Nyköpings MK | Aeronca | 115 | 126 | 53 | 118 | 114 | | 244 |
| 6 | Birgit Törnkvist | Haninge MFK | Wittman Bonzo | 110 | 130 | 107 | 98 | | | 240 |
| 7 | Daniel Brånn J | MFK Nimbus | FFVS J22 | 60 | 106 | 106 | | | | 212 |
| 8 | Lars Tolkstam | MFK Nimbus | Bf108B Taifun | 111 | 30 | 56 | 71 | 91 | 85 | 202 |
| 9 | Jonas Romblad | Haninge MFK | Pushy Cat | 59 | 87 | 92 | 99 | 90 | 91 | 191 |
| 10 | Georg Törnkvist | Haninge MFK | SAAB J-21 | 94 | 96 | 79 | | | | 190 |
| 11 | Jonas Johansson J | MFK Nimbus | Maule M5 | 52 | 51 | 61 | 87 | 56 | 102 | 189 |
| 12 | Ginger Sjöberg | Haninge MFK | Mitsubishi Zero | 88 | 97 | | | | | 185 |
| 13 | Andrea Hartstein | MFK Red Baron | Bristol Scout | 44 | 68 | 44 | 90 | | | 158 |
| 14 | Ginger Sjöberg | Haninge MFK | Bumble Bee | 75 | 76 | | | | | 151 |
| 15 | Anders Sjöberg | Haninge MFK | Hosler Fury | 86 | 50 | | | | | 136 |
| 16 | Birgit Ulvfot | Nyköpings MK | Waterman Racer | 46 | 45 | 48 | 64 | 60 | 54 | 124 |
| 17 | Lars Lindén | MFK Nimbus | ME 109 | 37 | 37 | 22 | 42 | 53 | 54 | 107 |
| 18 | Mikael Sjölund J | MFK Red Baron | ME 109 | 32 | 41 | 43 | 14 | 46 | 45 | 91 |
| 19 | Gösta Leijon | Nyköpings MK | Curtiss Hawk P6E | 44 | 45 | | | | | 89 |
| 20 | Magnus Pettersson J | Red Baron | Dyke Delta | 33 | 41 | 43 | 39 | 41 | 40 | 84 |
| 21 | Gösta Leijon | Nyköpings MK | Bell Aircobra | 40 | 32 | 38 | 42 | | | 82 |
| 22 | Sven-Olov Lindén | MFK Nimbus | Mitsubishi Zero | 32 | 32 | 30 | 35 | 41 | 41 | 82 |
| 23 | Sven-Olov Lindén | MFK Nimbus | Mr Mulligan | 32 | 37 | 38 | 41 | 30 | | 79 |
| 24 | Lars Lindén | MFK Nimbus | Mustang J26 | 34 | 35 | 34 | 34 | 29 | | 69 |
| 25 | Gösta Leijon | Nyköpings MK | Blackburn Blackburn | 35 | 33 | | | | | 68 |
| 26 | Gösta Leijon | Nyköpings MK | Travelair R | 31 | 36 | | | | | 67 |
| 27 | Gösta Leijon | Nyköpings MK | Hughes Racer | 36 | 29 | | | | | 65 |
| 28 | Magnus Pettersson J | Red Baron | Eagle XL | 7 | 3 | 6 | 5 | 28 | 30 | 58 |
| 29 | Gösta Leijon | Nyköpings MK | Boeing P-26 | 25 | 25 | | | | | 50 |
| 30 | Sven-Olov Lindén | MFK Nimbus | Heinkel He100 | 19 | 16 | | | | | 35 |
LRS (Ministick)
| | | | | | | | | | |
| --- | --- | --- | --- | --- | --- | --- | --- | --- | --- |
| Placering | Tävlande | Klubb | Flygn 1 | Flygn 2 | Flygn 3 | Flygn 4 | Flygn 5 | Flygn 6 | Summa 2 bästa |
| 1 | Andrea Hartstein | MFK Red Baron | 05:06 | 04:08 | 00:15 | 03:11 | | | 09:14 |
| 2 | Tomas Leijon | Nyköpings MK | 02:53 | 03:18 | 03:32 | 05:23 | | | 08:55 |
| 3 | Georg Törnkvist | Haninge MFK | 04:03 | 03:03 | 04:41 | 04:13 | 02:38 | | 08:54 |
| 4 | Lars Lindén | MFK Nimbus | 03:22 | 03:53 | 04:13 | 03:59 | | | 08:12 |
| 5 | Sven Pontan | Haninge MFK | 03:43 | 01:15 | | | | | 04:58 |
| 6 | David Schmidt | Haninge MFK | 01:36 | 01:37 | 01:53 | | | | 03:30 |
F1D
| | | | | | | | | | |
| --- | --- | --- | --- | --- | --- | --- | --- | --- | --- |
| Placering | Tävlande | Klubb | Flygn 1 | Flygn 2 | Flygn 3 | Flygn 4 | Flygn 5 | Flygn 6 | Summa 2 bästa |
| 1 | Sven Pontan | Haninge MFK | 14:49 | 12:24 | | | | | 27.13 |
| 2 | Sven-Olov Lindén | MFK Nimbus | 02:40 | 07:40 | 09:08 | | | | 16:48 |
| 3 | Lars Lindén | MFK Nimbus | 05:43 | 06:51 | 07:48 | | | | 14:39 |
F1L (EZB)
| | | | | | | | | | |
| --- | --- | --- | --- | --- | --- | --- | --- | --- | --- |
| Placering | Tävlande | Klubb | Flygn 1 | Flygn 2 | Flygn 3 | Flygn 4 | Flygn 5 | Flygn 6 | Summa 2 bästa |
| 1 | Sven Pontan | Haninge MFK | 10:24 | 05:40 | 07:01 | 02:06 | 09:15 | | 19:39 |
| 2 | Jonas Romblad | Haninge MFK | 07:53 | 08:42 | 09:17 | 02:01 | 08:47 | 10:05 | 19:22 |
| 3 | Andrea Hartstein | MFK Red Baron | 04:48 | 03:54 | 06:43 | 06:20 | | | 13:03 |
| 4 | Georg Törnkvist | Haninge MFK | 04:08 | 05:22 | 04:10 | 04:53 | | | 10:15 |
| 5 | Sven-Olov Lindén | MFK Nimbus | 04:27 | 04:40 | 05:22 | | | | 10:02 |
50-öres
| | | | | | | | | | |
| --- | --- | --- | --- | --- | --- | --- | --- | --- | --- |
| Placering | Tävlande | Klubb | Flygn 1 | Flygn 2 | Flygn 3 | Flygn 4 | Flygn 5 | Flygn 6 | Summa 2 bästa |
| 1 | Jonas Romblad | Haninge MFK | 07:28 | 08:13 | 08:42 | 05:46 | 09:24 | | 18:06 |
| 2 | Sven Pontan | Haninge MFK | 06:44 | 03:27 | 05:33 | | | | 12:17 |
| 3 | Tomas Leijon | Nyköpings MK | 03:29 | 03:42 | 02:48 | 02:48 | 02:58 | | 07:11 |
F4D
| | | | | | | |
| --- | --- | --- | --- | --- | --- | --- |
| Plats | Tävlande | Klubb | Modell | Skalapoäng | Flygpoäng | Summa |
| 1 | Lennart Lilienberg | Haninge MFK | Waterman Gosling | 2 | 1 | 3 |
| 2 | Andrea Hartstein | MFK Red Baron | Drzewiecki Canard | 1 | 4 | 5 |
| 3 | Sven Pontan | Haninge MFK | Piper Cub J3 | 3 | 2 | 5 |
| 4 | Sven-Olov Lindén | MFK Nimbus | Heinkel 100 | 4 | 3 | 7 |
F4E
| | | | | | | |
| --- | --- | --- | --- | --- | --- | --- |
| 1 | Tomas Leijon | Nyköping MK | Auster A4 | 3 | 1 | 4 |
| 2 | Lars Tolkstam | MFK Nimbus | Tiger Moth | 1 | 5 | 6 |
| 3 | Lennart Lilienberg | Haninge MFK | Farman Mostique | 2 | 5 | 7 |
| 4 | Sven Pontan | Haninge MFK | Bellanca Champion | 4 | 5 | 9 |
| 5 | Daniel Brånn | Mfk Nimbus | Baby Ace | 5 | 5 | 10 |
HKG
| | | | | | | | | | |
| --- | --- | --- | --- | --- | --- | --- | --- | --- | --- |
| Placering | Tävlande | Klubb | Flygn 1 | Flygn 2 | Flygn 3 | Flygn 4 | Flygn 5 | Fltgn 6 | Totalt 2 bästa |
| 1 | Sven Pontan | Haninge MFK | 3 | 26 | 25 | 25 | 12 | 12 | 51 |
| 2 | Lars Lindén | MFK Nimbus | 13 | 19 | 17 | 17 | 16 | 19 | 38 |
| 3 | Sven-Olov Lindén | MFK Nimbus | 11 | 14 | 14 | 13 | 12 | 15 | 29 |
Flugan, seniorer
| | | | |
| --- | --- | --- | --- |
| Tävlande | Klubb | Flygtid | Placering |
| Andrea Hartstein | MFK Red Baron | 416 | 1 |
| Georg Törnkvist | Haninge MFK | 310 | 2 |
| Lars Tolkstam | MFK Nimbus | 240 | 3 |
| Karl J Qvarfordt | Solna MSK | 161 | 4 |
| Lars Lindén | MFK Nimbus | 130 | 5 |
| Sven-Olov Lindén | MFK Nimbus | 127 | 6 |
Flugan, juniorer
| | | | |
| --- | --- | --- | --- |
| Tävlande | Klubb | Flygtid | Placering |
| Daniel Brånn | MFK Nimbus | 310 | 1 |
| Labbe Kjellberg | Solna MSK | 236 | 2 |
| Alexander Vasberg | Solna MSK | 236 | 2 |