The Swedish indoor championships 2010
The 2010 Swedish indoor champs once again took place in Sätrahallen, Stockholm. With a ceiling of about 15 meters, and non-model-catching wooden rafters, it is a pleasant hall to fly in. This year, the competition was held over two days instead of the usual one day, which made for a more relaxed atmosphere with time for trimming and fun-flying. The usual classes were flown, though F1M didn't have enough entries and was droppped.
In F1D, there was as usual a lack of competitors. To make up the three persons necessary for an official championship class, David entered with an F1L. But improvement may be in sight. No less than three persons promised to build an F1D for next year!
In F1L, there were more flyers. Mats Licke won with two flight of over 13 minutes, the others were somewhat behind. My own plane got caught in a floodlight lamp on its very fist flight, and was nearly impossible to see in the blinding light. When we finally got it down (thanks Sven), the wing was quite thoroughly broken. I thought it had made its final flight, but with some encouragement from others, and a borrowed piece of mylar, I got it in the air again.
In scale, I had repaired my old Drzewiecki peanut. It flew sufficiently well to win the peanut class. Johan Wallin was second with his nice ASJA Viking.
In pistachio, Tolkstam was yet again victorious with his excellent Udet Flamingo. He also showed us a peanut he is currently making, a Gerner biplane, which is built to the same high standars as the Udet, and might well be next years winner.
In nocal finally, Birgit outflew us all with her Wittman racer for the umpteenth time. She says she never needs to retrim it, she just takes it out of its box, winds up the rubber, and then proceeds to post some winning flights! Second was Lars with his Messserschmitt 108, while I managed to squeeze a two minute flight out of my Bristol Scout for a third place.
---
Some photos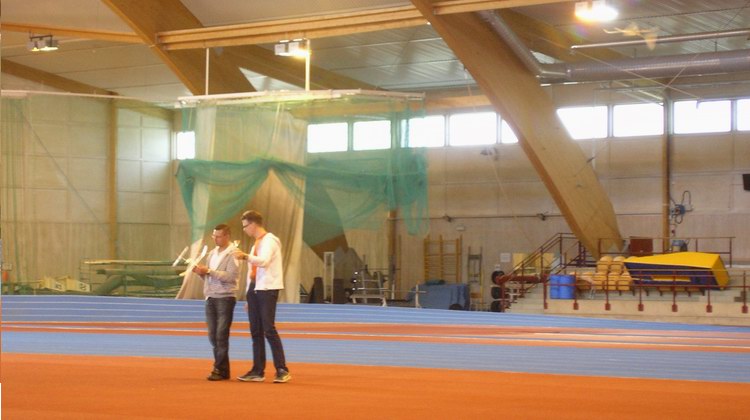 Two flyers discussing their F1L's
---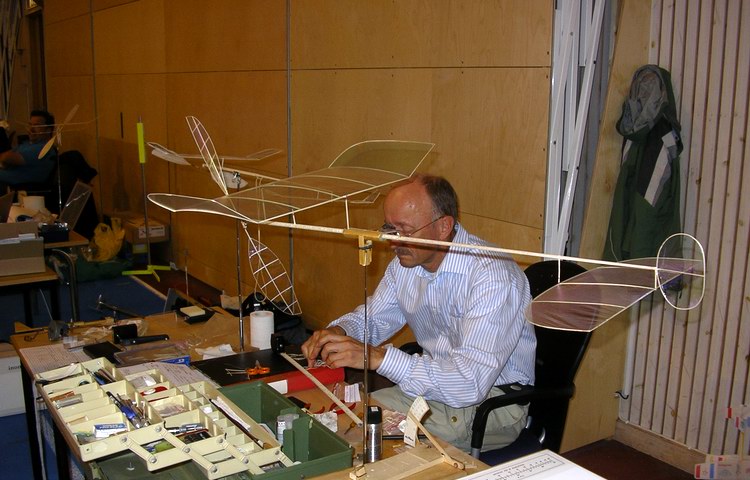 Sven working behind his F1D model
---
| | | |
| --- | --- | --- |
| | | Andrea's F1L after retrieval from a hang-up |
| | | |
| --- | --- | --- |
| ..but after some repair it was flyable again | | |
---
| | | |
| --- | --- | --- |
| | | The steering/retrieval pole was not quite long enough, so an extra ladder had to be employed when a model got stuck at the top of the ceiling |
---
| | | |
| --- | --- | --- |
| | | Tolkstam preparing to launch his Messerschmitt nocal |
| | | |
| --- | --- | --- |
| Andrea's old Bristol Scout in the air. | | |
---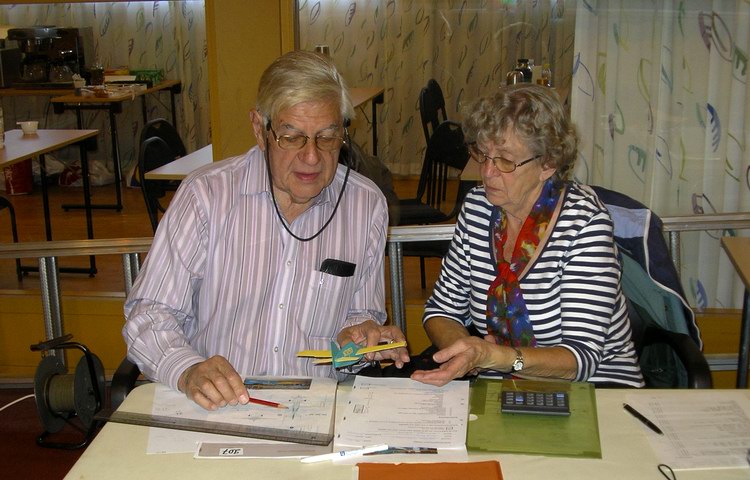 The scale judges Sven-Olof and Vailet at work
---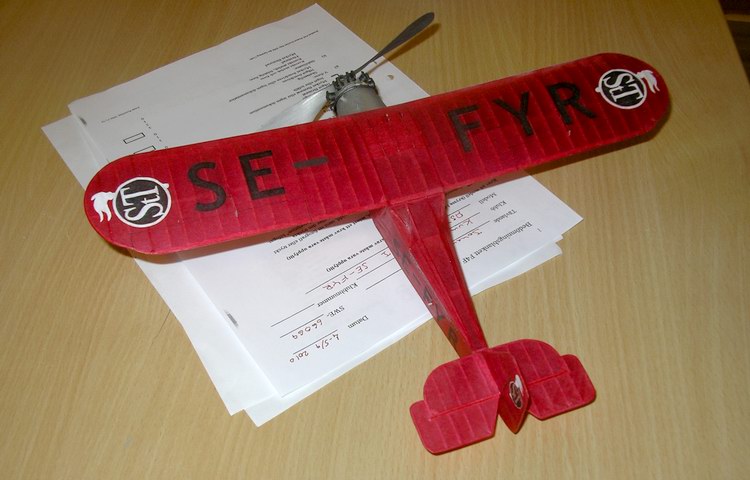 Johan's immaculate ASJA Viking
---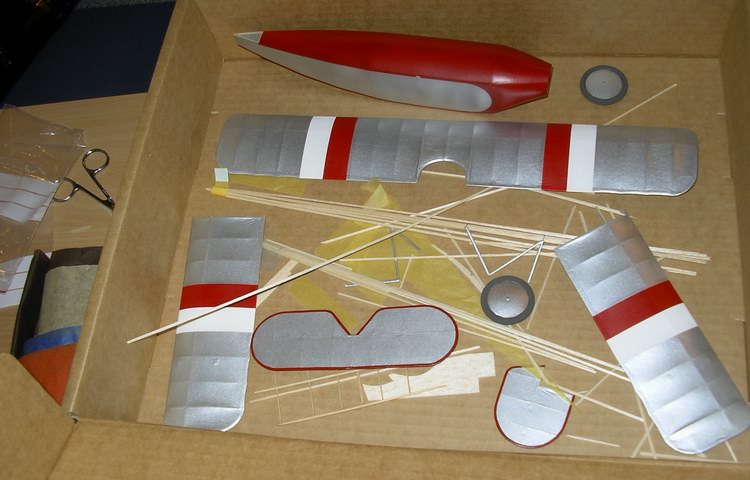 A contender for next year? Lars Tolkstam's Gerner peanut shows superb workmanship
---
Results
F1D
Place
Competitor
2 best flights (sec)
Sum of 2 best flights (sec)
1
Sven Pontan
1035
1117
2152
2
Hans Karlsson
850
844
1694
3
David Brohede
897
-
897
F1L
Place
Competitor
2 best flights (sec)
Sum of 2 best flights (sec)
1
Mats Licke
797
787
1582
2
David Brohede
674
778
1452
3
Georg Törnkvist
627
679
1306
4
Sven Pontan
689
601
1290
5
Magnus Candell
597
582
1179
6
Andrea Hartstein
569
601
1170
Ministick
Place
Competitor
2 best flights (sec)
Sum of 2 best flights (sec)
1
David Brohede
348
354
702
2
Georg Törnkvist
283
228
511
3
Lars Lindén
230
236
466
A6
Place
Competitor
2 best flights (sec)
Sum of 2 best flights (sec)
1
Mats Licke
281
218
499
2
Georg Törnkvist
198
243
441
3
Magnus Candell
189
213
402
4
Robert Mlakar
158
162
320
NoCal
Place
Competitor
Plane
2 best flights (sec)
Sum of 2 best flights (sec)
1
Birgit Törnkvist
Wittman Racer
165
175
340
2
Lars Tolkstam
Bf 108 Taifun
128
140
268
3
Andrea Hartstein
Bristol Scout
110
120
230
4
Lars Tolkstam
Heinkel He 112
116
85
201
5
Sven Pontan
Piaggio Pegna
84
88
172
6
Max Wallin
Voisin Tractor
35
37
72
Peanut
Placing
Competitor
Plane
2 best flights (s)
Sum of 2 best flights (s)
Flight rank
Scale points
Scale rank
Total ranking
1
Andrea Hartstein
Drzewiecki Canard
76
69
145
1
60.0
1
2
2
Johan Wallin
ASJA Viking 1
63
58
121
3
57.0
2
5
(3)
Andrea Hartstein
Lacey M10
71
71
142
2
52.5
3
5
3
Lars Tolkstam
Piper Cub J3
53
50
103
5
47.5
4
9
4
Henrik Tisell
BA4-B
59
60
119
4
47.0
5
9
5
Lars Lindén
Nesmith Cougar
39
39
78
6
42.0
6
12
(6)
Lars Lindén
Piper Cub J3
34
31
65
7
41.0
7
14
6
Sven Pontan
Tefft Contestor
41
-
41
8
38.0
8
16
Pistachio
Placing
Competitor
Plane
2 best flights (s)
Sum of 2 best flights (s)
Flight rank
Scale points
Scale rank
Total ranking
1
Lars Tolkstam
Udet U-12
37
52
89
1
34.0
1
2
2
Georg Törnkvist
Wittman VW-racer
20
11
31
3
30.0
2
5
3
Johan Wallin
Jodel D-9
13
20
33
2
28.0
4
6
(4)
Georg Törnkvist
BA4-B
7
-
7
4
29.0
3
7
4
Sven Pontan
Lacey M10
-
-
0
6
20.0
5
11
5
Andrea Hartstein
ANT-2
3
-
3
5
10.0
6
11