The Swedish indoor championships 2006
The 2006 Swedish indoor champs took place in Sätrahallen, Stockholm. This hall has a ceiling of about 15 meters, and its non-model-catching wooden rafters make it a pleasant hall to fly in. As the event collided with the oldtimer championships, it was decided to postpone the scale classes, because many of the scale fliers fly oldtimers as well. For us that fly both scale and duration, this made the competition much less stressed than usual.
In F1D, Jonas Romblad made two incredible flights, the best of which was 30:22 (probably the longest flight ever recorded in Sweden), and won the competition by a handsome margin. Pontan and Finnish guest Leif Englund took 2:nd and 3:d respectively, while David Holmström made a token flight with an F1L to make it an official championship (there must be at least three Swedish competitors in a class for it to be an official Swedish championship class).
The most popular class today is F1L. In spite of the Scanian fliers being absent, there were eight competitors, and among them two juniors. The competition was close, with many fliers making flights in excess of 10 minutes, something that was quite rare just a couple of years ago. David Holmström consistently flew a bit better than the others and won, with Lasse and Andrea in 2:nd and 3:d place.
F1M had four entries, though as two of them were from Finland, the class did not count as an official Swedish championship. The Finns flew longer than the Swedes, Tapio Linkosalo taking first with several good flights over 12 minutes.
Ministick and Nocal had only 3 entries each. In ministick, Tomas Leijon won after several hair rising, rafter banging flights of +7 min. Tomas also took the frst place in Nocal, in close competition with Lilienberg's new P39. Tomas actually entered two almost identical Heinkel 178 models, one coming first, the other last!
---
Some photos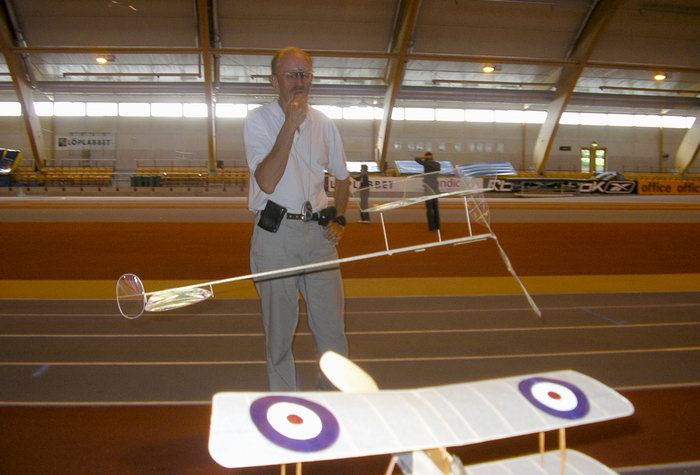 Pontan pondering his F1D during a trimming flight
---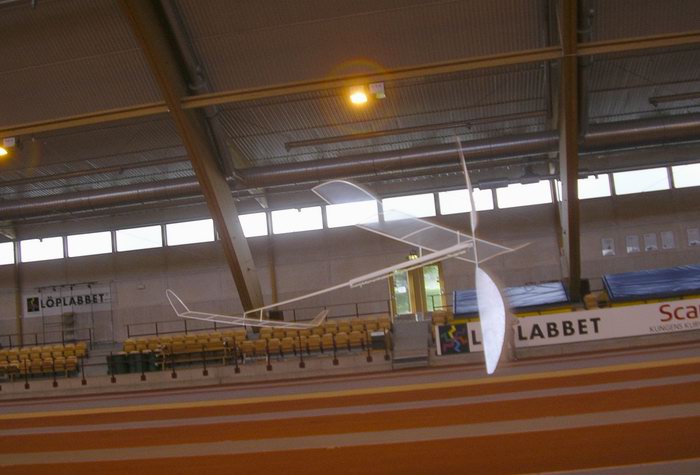 Göran Hedlund's F1L in flight
---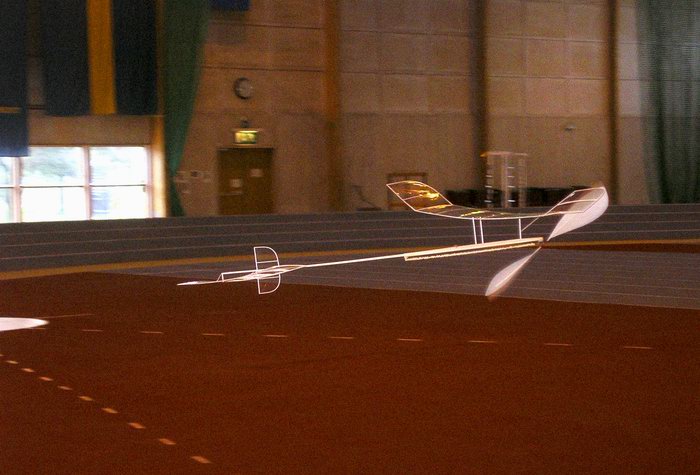 Hartstein's F1L in flight. Note the quite flexible flying surfaces, and some ad hoc bracing struts
---
Andrea preparing her Bristol Scout Nocal. In the background Göran with an F1L.
Photo by David Holmström
| | | |
| --- | --- | --- |
| And here is the Bristol Nocal in the air. | | |
---
---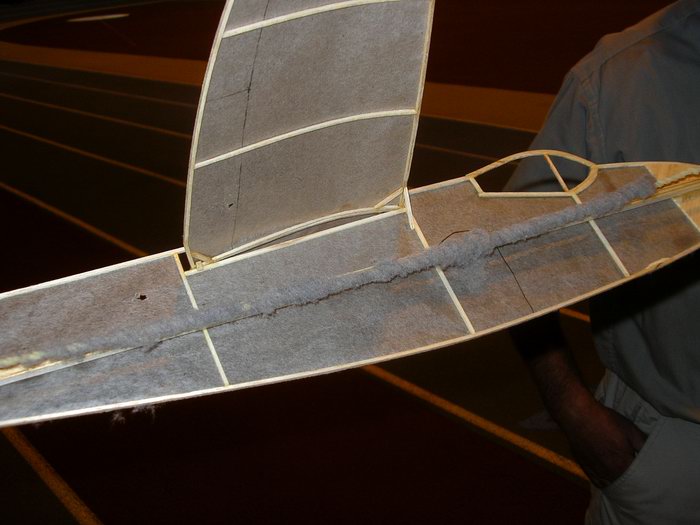 One of Tomas Leijon's Heinkel 178 nocals after a hangup in the rafters. During the hangup, the propeller continued to rotate, which caused all the cobwebs and dust to become intwined in the rubber. And there must have been a plentiful supply of those articles...
---
Johan brought two almost finished Riesler Nocals, but time ran out before he could make an official flight
---
Results
F1D
Place
Competitor
2 best flights (sec)
Sum of 2 best flights (sec)
1
Jonas Romblad
1722
1822
3544
2
Sven Pontan
1245
1092
2337
3
Leif Englund - Finland
1017
1081
2098
4
David Holmström
379
-
379

F1L (J) denotes junior


Place
Competitor
2 best flights (sec)
Sum of 2 best flights (sec)
1
David Holmström
690
799
1489
2
Lasse Britts
650
628
1278
3
Andrea Hartstein
619
642
1261
4
Göran Hedlund
592
619
1211
5
Ludwig Hedlund (J)
524
634
1158
6
Magnus Candell
545
609
1154
7
Mats Licke
523
537
1060
8
Ted Candell (J)
239
383
622
F1M
Place
Competitor
2 best flights (sec)
Sum of 2 best flights (sec)
1
Tapio Linkosalo - Finland
739
729
1468
2
Leif Englund - Finland
621
559
1180
3
Kurt Högberg
443
415
858
4
Tomas Leijon
231
-
231
Ministick
Place
Competitor
2 best flights (sec)
Sum of 2 best flights (sec)
1
Tomas Leijon
450
445
895
2
Göran Hedlund
321
324
645
3
Andrea Hartstein
208
180
388
NoCal
| | | | |
| --- | --- | --- | --- |
| Place | Competitor | Plane | Time of single best flight (m:s) |
| 1 | Tomas Leijon | Heinkel 178 | 2:19 |
| 2 | Lennart Lilienberg | Bell P39 Aircobra | 2:11 |
| 3 | Andrea Hartstein | Bristol Scout | 1:50 |
| 4 | Tomas Leijon | Heinkel 178/2 | 1:23 |