The international mini-stick postal competition 1996
The Mini-Stick, (or Living Room Stick) planes have a max. wingspan of only 7", and are the tiniest type of model plane for which regular contests are held. As seen in the picture above they can be flown in an ordinary living room without problems.
The Mini-Sticks are a fairly recent addition to the indoor fauna, but they have managed to spread quickly all over the world thanks to the yearly international postal competitions. This year's event was run by the St. Louis Thermaleers, USA. To be able to fly competitively in halls with different ceiling height a correction factor has been introduced to transform the flight times to a common standard.
This factor is: 627/(167+46*sqrt(h)), where h is the ceiling height in feet. This "correction" is designed to equalize the best performances in low- and high-ceiling halls.

When one looks at this years results one notes a strong dominance of two nations, USA and Japan. We Europeans are clearly left behind. Best among the Swedes was Georg Törnkvist. His duration of over 4 min in his home is, at least to my eyes, impressive, yet it was not enough for more than 56th place.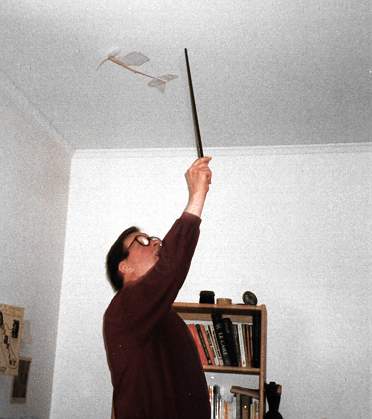 Georg Törnkvist steering his Mini-Stick plane. He became the best placed Swede, with a flight of 250 sec. in this room.
---
Top 15 results (95 competitors)
Place
Competitor
Country
Time (sec.)
Ceiling height (feet)
Corrected time (sec.)
1
Walt Vangorder
USA
538
17.92
932.6
2
Jim Clem
USA
558
23
902.6
3
Yatabe Toru
Japan
563
29.52
846.7
4
Mark Vancil
USA
424
10.5
841.1
5
Bob Platt
USA
398
8.17
836.1
6
Onishi Toru
Japan
547
29.52
822.6
7
Larry Mzik
USA
473
20
795.7
8
Gene-Francis Frugoli
France
378
8.22
793.0
9
Toru Yatabe
Japan
508
29.52
764.0
10
Walt Collins
USA
359
8.17
754.2
11
Tom Sova
USA
441
20
741.9
12
Nonaka Shigezoshi
Japan
470
25.94
734.4
13
Earl Hoffman
USA
424
18.95
723.9
14
Kihara Kazumasa
Japan
473
29.52
711.3
15
Tony Sabiscak
USA
353
10.5
700.3
Swedish placings
| | | | | | |
| --- | --- | --- | --- | --- | --- |
| Place | Competitor | Country | Time (sec.) | Ceiling height (feet) | Corrected time (sec.) |
| 56 | Georg Törnkvist | Sweden | 250 | 7.8 | 530.5 |
| 76 | Sven Pontan | Sweden | 263 | 23.8 | 421.3 |
| 84 | Andrea Hartstein | Sweden | 181 | 19.84 | 305.2 |