The Blå Hallen meeting 1999
This years Leijon NoCal trophy saw higher durations in general, and Birgit Törnkvists winning flight of 3:33 set a new (inofficial) Swedish record. The three first placed models all flew over 3 minutes, and were all built and flown by women competitors. The best-in-show prize was won by Ingvar Persson with his Pitts Special. Another noteworthy model was Lars Tolkenstams twin engined DH Hornet. A difficult model which he nevertheless got to fly very well.
Part of the time was set aside for the RC-models, which have grown in popularity, and indoor RC expert Johan Bjurling made an appreciated demonstration of his models.
Unfortunately, this was to be the last of the Blå Hallen meetings. The city council decided that the hall should only be lent out at market price, way to high for model flying.
---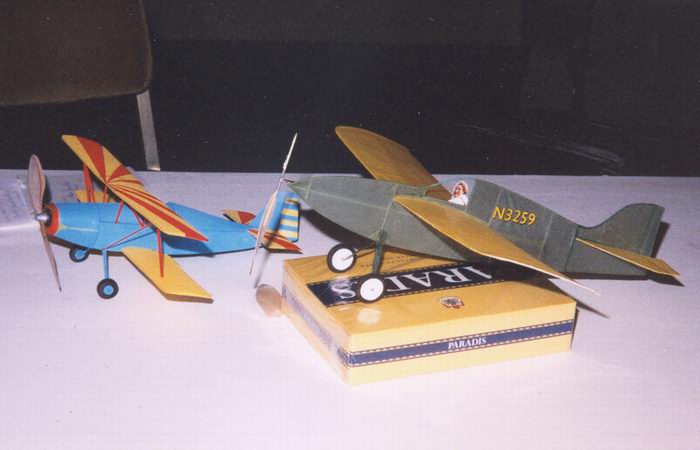 The winning Nocal by Birgit Törnkvist on top of the prize it won, a box of chocolates. One of the propeller blades seem to have fallen off. Next to it stands husband Georgs foam peanut Andreasson biplane.
---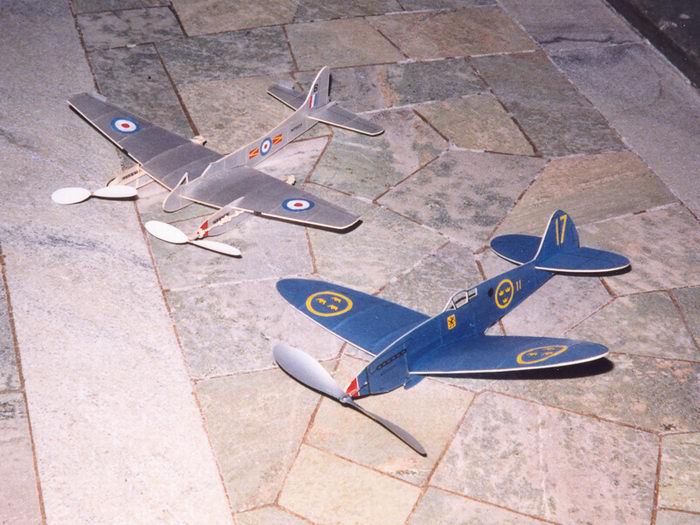 Åsa Kivlings Spitfire is a beautiful model and placed third in the competition, with a flight of over 3 minutes. The DH Hornet by Lars Tolkstam is another excellent model. It flew splendidly in spite of the difficulties inherent with two engined rubber power setups.
---
| | | |
| --- | --- | --- |
| | | Here is Johan Bjurlings radio controlled Tiger Moth which flew very well, and became a favourite with the public. |
| | | |
| --- | --- | --- |
| And here is another of Bjurlings planes, an aerobatic RC model with symmetric airfoil. | | |
---
Results
---
The Leijon NoCal competition
| | | | |
| --- | --- | --- | --- |
| No. | Competitor | Plane | Time of best flight (s) |
| 1 | Birgit Törnkvist | Whitman Racer | 3:33 |
| 2 | Ginger Sjöberg | Bumble Bee | 3:25 |
| 3 | Åsa Kivling | Supermarine Spitfire | 3:07 |
| 4 | Tomas Leijon | Heinkel 178 | 2:45 |
| 5 | Birgit Ulvfot (proxy) | Aeronca Champion | 2:37 |
| 6 | Jonas Romblad | Pushy Cat | 2:30 |
| 7 | Tommy Westlin | Viri | 2:21 |
| 8 | Lars Tolkstam | Bf 108 Taifun | 2:20 |
| 9 | Anders Sjöberg | SE-5A | 2:11 |
| 10 | Ingvar Persson | Pitts Special S1A | 2:04 |
| 11 | My Schaffer | Mitsubishi Zero | 1:59 |
| 12 | Anders Sjöberg | MIG-3 | 1:55 |
| 13 | Leo Santala | Mitsubishi Zero | 1:54 |
| 14 | Daniel Brånn | Zlin | 1:53 |
| 15 | Daniel Brånn | Westland Wyvern | 1:49 |
| 16 | Andrea Hartstein | Bristol Scout | 1:44 |
| 17 | Georg Törnkvist | Cessna Bird Dog | 1:35 |
| 18 | Leo Santala | Curtiss Kittyhawk | 1:29 |
| 19 | Sven-Olof Lindén | Focke Wulf 190 | 1:17 |
| 20 | Eric Pettersson | Falcon 10 | 1:15 |
| 21 | Gösta Leijon | J 22 | 1:06 |
| 22 | Leo Santala | Il-2 Stormovik | 1:02 |
| 22 | Sven-Olof Lindén | Mitsubishi Zero | 1:02 |
| 22 | Lars Tolkstam | de Havilland Hornet | 1:02 |
| 25 | Johan Svanestrand | Sparmann S1A | 0:58 |
| 26 | Lars Lindén | Grumman Bearcat | 0:57 |
| 27 | Gösta Leijon | Martin Baker MB5 | 0:46 |
| 28 | Gösta Leijon | Curtiss Hawk P6E | 0:25 |
| 29 | Erik Rääf | P-51B Mustang | 0:20 |


The Solna Flugan (=Delta Dart) competition
The durations in the final, unlimited, fly-off are given.

Seniors (24 flew)

| | | |
| --- | --- | --- |
| No. | Competitor | Fly-off result (s) |
| 1 | Leo Santala | 81 |
| 2 | Olle Blomberg | 63 |
| 3 | Risto Nerman | 38 |
| 4 | Tapio Linkosalo | - |
| 5 | Anders Håkansson | - |
Juniors (7 flew)
| | | |
| --- | --- | --- |
| No. | Competitor | Fly-off result (s) |
| 1 | Daniel Brånn | 95 |
| 2 | Janne Lauren | 82 |
| 3 | Lasse Nyberg | - |
| 4 | Viktor Wågman | - |
| 5 | Erik Pettersson | - |