The Blå Hallen meeting 1997
This meeting was held on the 19th January 1997. The annual Leijon NoCal competition was for the first time not won by the Sjöberg family, as Åsa Kivling got the best times with her Spitfire. The best-in-show prize was given to Birgit Törnkvist's Wittman Bonzo racer. 30 models were entered in this contest; a new record Finally a Nocal mass launch was arranged; it was quite impressive to see 20+ Nocals fluttering about. Last down was Sven Pontan with his old Waterman Racer.
As usual, the Solna club arranged a Flugan (Delta Dart) contest which was won by Lars Tolkstam, with a best time of 85 seconds.
---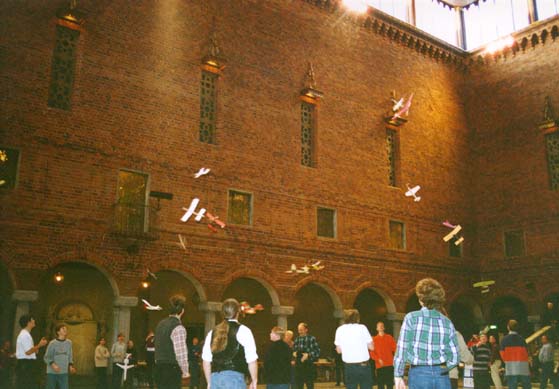 Photo by Willy Blom
The Nocal masslaunch, in which over 20 models took part.
---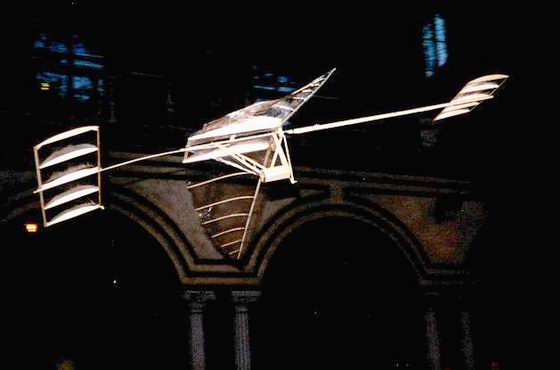 This new large ornithopter (2 m wingspan) by Kenneth Barman was seen at the Blå Hallen meeting 1997. It has a weight of 250 grams, and managed to hold a level course as long as the (very short) rubber motor was propelling. The ribs are individually hinged to the front spar, and the construction features a "return spring" to equalize the motor load on the up- and downstrokes.
---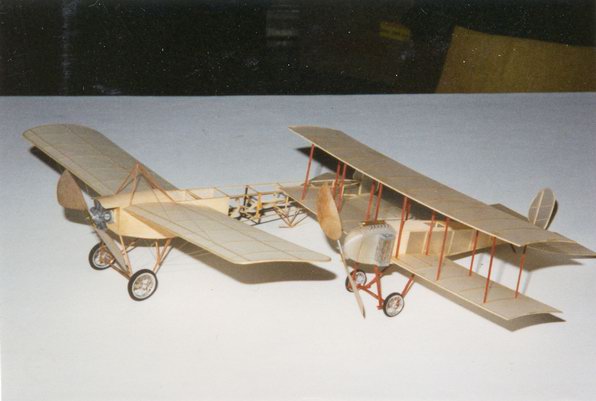 A Sommer monoplane and a Wright L biplane built by Jonas Hultgren. The Wright is peanut size, the Sommer is slightly larger at 16" span. Both are very light builds, the Sommer weighs only 5 grams, and the flying surfaces are covered top side only. Not unexpectedly, they both turned out to be beautiful flyers. The Sommer is based on an all balsa Bill Hannan plan, but using built up structure instead.
---
Results
---
The Leijon NoCal competition
| | | | |
| --- | --- | --- | --- |
| No. | Competitor | Plane | Time of 2 best flights (s) |
| 1 | Åsa Kivling | Supermarine Spitfire | 305 |
| 2 | Anders Sjöberg | Supermarine Spitfire | 295 |
| 3 | Sven Pontan | Waterman Gosling | 283 |
| 4 | Ginger Sjöberg | Bumble Bee Racer | 255 |
| 5 | Tomas Leijon | Aeronca | 243 |
| 6 | Lars Tolkstam | Messerschmitt Bf 108 | 240 |
| 7 | Georg Törnkvist | SAAB J21 | 218 |
| 8 | Birgit Törnkvist | Wittman Bonzo | 214 |
| 9 | Daniel Brånn | FFVS J22 | 208 |
| 10 | Ginger Sjöberg | Mitsubishi Zero | 195 |
| 11 | Andrea Hartstein | Bristol Scout | 194 |
| 12 | Daniel Brånn | Messerschmitt Bf 109 | 155 |
| 13 | Tapio Linkosalo | Lacey M10 | 144 |
| 14 | Jonas Romblad | Pushy-Cat | 125 |
| 15 | Jan Carlerud | PZL P24 | 116 |
| 16 | Erik Fredriksson | Focke-Wulf 190 | 108 |
| 17 | Jonas Johansson | Maule M5 | 99 |
| 18 | Anders Sjöberg | MIG 3 | 92 |
| 19 | Christoffer Gustafsson | P 51 Mustang | 91 |
| 20 | Dennis Varga | SAAB J21 | 76 |
| 21 | S.-O. Lindén | Mitsubishi Zero | 75 |
| 22 | Gösta Leijon | Travelair R | 72 |
| 23 | Janne Lauren | Mitsubishi Zero | 69 |
| 24 | Gösta Leijon | Curtiss Hawk P6 | 64 |
| 25 | Gösta Leijon | Blackburn Blackburn | 61 |
| 26 | Daniel Brånn | Messerschmitt Bf 108 | 56 |
| 27 | Gösta Leijon | Hughes racer | 49 |
| 28 | Solveig Leijon | Demoiselle | 47 |
| 29 | Anders Sjöberg | Hosler Fury | 30 |
| 30 | David Schmidt | SAAB Safir | 15 |
The Solna Flugan (=Delta Dart) competition
Senior class (17 flew)
| | |
| --- | --- |
| No. | Competitor |
| 1 | Lars Tolkstam |
| 2 | Anders Håkansson |
| 3 | Olle Blomberg |
Junior class (8 flew)
| | |
| --- | --- |
| No. | Competitor |
| 1 | Janne Lauren |
| 2 | Johan Österman |
| 3 | Erik Fredriksson |