The Andreasson BA 4B
---
As a model plane, the Andreasson BA 4B is an old favourite from Walt Mooney's profilic peanut production. It has been kitted by Peck-Polymers, and is a well proven flier.
History
In 1944 Björn Andreasson designed a diminutive biplane, the BA 4. The engine was a 28 hp Scott Squirrel, but it did not give enough power and the plane was flown only occasionally. Later it was re-engined, and it finally ended up in a museum in Helsingborg.
In the 60's, Andreasson designed a modified version, the BA 4B, intended for homebuilders. The shapes from the old BA 4 were still there, but riveted metal sheet covering was substituted for the traditional construction techniques used in the old version. The first flight of the prototype was made in July 1966, and later some other BA 4B's have been built. The BA 4B is a fully aerobatic plane, and its good flight characteristics led Andreasson to do a two-seated follow-up design, the BA 11. Although there were plans to put it into commercial production, only one BA 11 got built.
A 3-view drawing of the BA 4B is found in "Flyghobby 1" by Freddy Stenbom.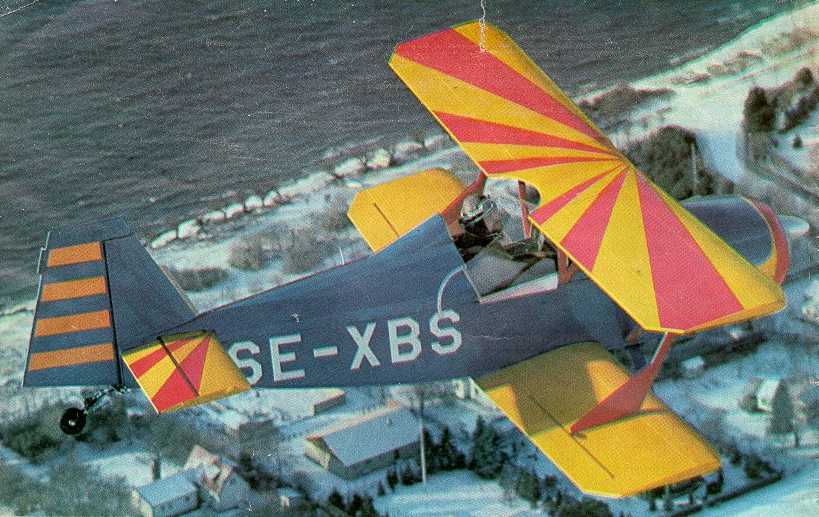 More pictures
BA 4B taking off (57K)
BA 4B on the ground (25K)
Climbing into the cockpit (16K)
In flight (9K)
Instrument panel (14K)
Thanks to Lars Tolkenstam who provided the pictures.